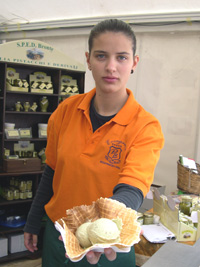 What characterized this feast was the awarding given for several contests: for the best looking shop windows, the more beautiful lights, the best stand, the more delicious dessert or ice cream, the best cook of pistachio flavored meals and so on. To reward the winners of the Miss Etna competition was the Lord Major senator Firrarello, with the alderman Melo Salvia and the deputy Lord Major Nunzio Calanna.
The winners were the twenty years old Roberta Proietto Billorello from Randazzo and the sixteen years old Angela Vecchio from Fiumefreddo.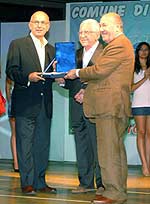 Both extremely beautiful and absolutely lovely. Also the splendid Silvia Longhitano, fifteen years old from Bronte won the band of «Miss photogenes».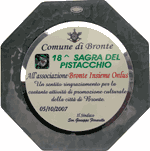 But some of the various bands won by all the other participating girls were given by Nino Liuzzo and Sam (Salvatore) Di Bella who represented, with Franco Cimbali, the Association «Bronte Insieme».
In occasion of the feast, the Muni­cipal Administration has chosen to thank and reward the Association with a plate «for the constant activity of cultural promotion of the city of Bronte».