It is placed in the western margin of the town, in the lower part of the ancient old city center bound by the main road which gets down towards the Sciarotta area. Joins in a wonderful image the solid expressiveness of the complex and the innovative strength of the architectural elements of Renaissance inspiration.

The building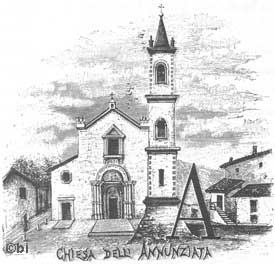 The building certainly dates long before the joining of the 24 set­tlements (wanted by Carlo V in 1535): the big bell, in fact, shows the date of 1535 (the wor­ding says "Antoninus Sagla I fecit, MCCCCCXXXV"), and the church already appears in the matrimonial registers of 1505.
It is not possible, however, establishing what the original outside structure of the church, was, only the Christ's chapel and the column makes you think that could be part of the primitive building.
At the time of the transfer and unification of the farmhouses (1535 -- 1548), the churchwas, according to what the historian brontese Benedetto Radice writes ("Historical memories of Bronte"), was reconstructed and enlarged and, after the arrival of the statues of the Annunciated around 1543, the rising new town was put under the protection of the Madonna Annunziata, giving the inhabitants of the old farmhouses a new common identity.
Monsignor Ludovicus de Torres, the bishop of Monreale whoch visited Bronte in 1574, wrote to have found "altar decenter ornatum" and praised "illum (the substitute of the church, Don Antonio Ciraldo) et confrates (the confraternity of the Madonna Annunziata) et monuit to perfectionem novae fabricae".
Almost fifty years later, in 1625, the bell tower was built (the original door was where the altar of the Natività is found, now to the right coming in).
The façade of the sanctuary was completed in 1631, and few years later, (in 1651) the canopy truss was installed, as it reads on the beam near the chorus. The chorus and the dome were added in 1811.

The outside
The outside of the church, for the drawing of the bases and openings of the bell tower powerful structure, feels considerably of some architectural conceptions and local constructive techniques.