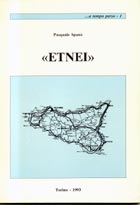 Three the books of poetries that he defines as "pseudo-poetical oddities", we remember:

"Etnei" (Torino, 1993), a collection of poems written in forty years (from 1939 to 1979) "of emotions caused from the periodic returns of the author to Bronte and the following departures, in autumn, to the reopening of the schools".
The book, a "fanciful rebuilding of the origin and transformation of Bronte and his people", ripened with the age of the author, would like to present the Brontese folks as a universal model of all humanity in the perennial torment of research".
One poetry of his "Stirpe divina" (Divine stock) tells the fanciful origin of the foundation of Bronte as work by the Cyclops "human and laborious" and of three nymphs, Scibìlia, Salìcia and Rivòlia.

"Prigionieri dell'impossibile" (Prisoners of the impossible) (L'Aquila, 1998), another collection of poetries written in Italy during the war period (1939-42), in the "internment fields" in Switzerland (1943-44), during the long return journey in Sicily (1944-45) and in next journeys in the Swiss nation.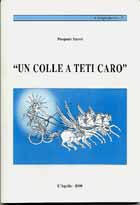 "Un colle a Teti caro" (A hill dear to Teti) (L'Aquila, 2000) fifty years of poetries (from 1947 to year 2000), made of memories, of touching personalities and, above all dedicated to Millya, the soul mate ("light butterfly"), with whom Pasquale Spanò ("noisy bumble-bee") spent "a long fifty year old idyll with never a disagreement, a tear, a pain".
Among the books of historical rebuilding that Pasquale Spanò defines "particular studies", we mention:

"C'era qui una volta il Rizzonito (Bronte nella storia d'Europa)" ("There was here once the Rizzonito (Bronte in the history of Europe)", (Torino, 1993), dedicated "to the boys of Bronte so that they do not forget", the book exposes the tormented development of the historical events of the Etna' town, offering a picture chronological, concise but complete and historically valid, of the development of events.

"Uniti nella diversità (La Svizzera vista da un Italiano)" ("United in the diversity - Switzerland seen by an Italian)" (L'Aquila, 1998), where the author, who evidently found in Switzerland a second country, exposes the birth and the social evolution of the Swiss confederation describing "the spirit of pacific cohabitation, which is to the base of a state formed by various peoples for stock, tongue and religion".