The sanctuary dedicated to Maria SS. Annunziata is built in lava stone masonry, a big hemispheric dome has a pointed arch with lantern and the gable roof with wooden trusses.
The inside of the church has one only nave, it has eight altars and two chapels, one in front of the other, a square presbytery ante-chorus, and, at the end of the chorus, one astonishing altar, (of the same sandstone as the entry door), which contains the statues of the Madonna and the angel.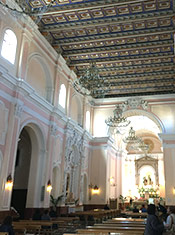 Masterpieces of inestimable value are kept in the church: worthy works of Renaissance taste to be signaled among the artistically most beautiful expressions in Sicily.
The nave, with polychrome coffered ceiling with gildings, is surmounted by the entries of two chapels dedicated to Christ at The Column and San Giuseppe.
The transept of square plant which precedes the chorus is surmounted by a circular finestrato (window set) on which the dome is erected.
The big arches of the chapels and the altars, which symmetrically adorn the walls, are enriched by plastic ornaments; the altars adorned with beautiful pictures.
Coming in, from the right, we find the altar of the Jesus' Nativity, (where once was the door of the bell tower), the one of San Martino di Tours with a very beautiful painting; the chapel of the Christ alla Colonna and the altar of S. Ignazio of Lojola, with the eighteenth-century statue.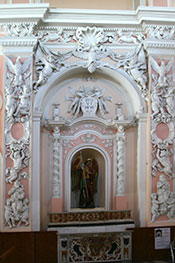 To the left there is the altar of the Madonna delle Grazie, (the picture of 1646, is attributed to Giuseppe Tomasio), that of Jesus and Maria, the San Giuseppe chapel and the San Michele Archangel altar with an elegant arch of baroque style.
At the end of the chorus stands the mayor altar dedicated to the Annunciated.
The Chapel of Cristo alla Colonna opens with a travertine arch all in gilded bas-relief and differently colored, with the pediment surmounted by three spires worked to flower patterns.
Vases with several friezes and flowers on the inside and outside adorn the columns; those of the base to the right are supported by winged lions, those to left by animals with sphinx face, rather than lions.