Inside of the church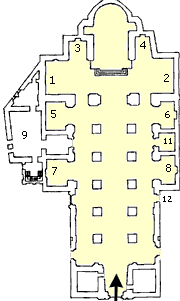 there isn't a precise architectural style and is extremely simple but also interesting enough.
Has a longitudinal shape to Latin cross, with two lateral naves and one central, four side chapels and two at the end, an apse chorus, a wooden chorus, with inlayed wooden benches.
The central nave is supported by twelve columns made of sandstone with capitals, subsequently increased with consolidation masonry (two of them collapsed in the earthquake of 1818).
The arcades of the ancient twelve columns are round arched.
Entering the church from the major door it is possible to see how originally the columns had been.
Here were brought to light a few columns, the floor and other architectural elements in limestone of the original building.
The three naves belonged to the ancient church of Santa Maria, the transept, the major chapel and the two sides, to the old church of the SS. Trinità.
The transept is contained in the short sides by two wonderful baroque altars of the Crucifix (2) and the Purgatory (1)(restored in 1892).
The vaults replace the original wooden trusses. The first chapel, to the right coming in (8) is dedicated to San Biagio (patron saint of Bronte), the second (6) to the Addolorata with the statues of the Madonna (every Venerdì Santo - holy Friday - is taken in procession after the statues of Christ to the Column, the crucifix and Christ dead).
The first left chapel is dedicated to Jesus' Heart (7), with a small mausoleum in marble of the dean Vincenzo Uccellatore and (to the right) the picture of the Buon Pastore (Good Shepherd), work of the brontese Agostino Attinà (1880).
Comes then the chapel of the apostles Pietro and Paolo (5).
To the right of the chorus that of S. Maria of the Candelora or the Purification (4), first half of the XVII century.
To the left, the chapel of the SS. Sacrament (3), already in existence since 1574, taken with two frescos by the brontese Nunziato Petralia (1895) which represents a fasting mule that refuses to eat its fodder for three days and stands in adoration in front of the sacrament from S. Antonino and the count Rodolfo degli Asburgo who gives his own horse to a priest that is taking the Last Sacraments to a very ill person.
In the apse is noticed the wall wooden structure of the chorus with the benches worked to inlays and the equipment of the mechanical organ.

On the walls of the side naves lay some mausoleums of illustrious brontesi, among which stand out, in the left nave, the ones of the bishop Monsignor Giuseppe Saitta and of the don Nicola Spedalieri (1741 -1831).