A rich and valuable fruit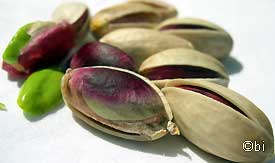 A Bronte's green pistachio is not only rich of high level nutritional substances, but also contains several active principles used in the medical field.
The activity anti-radicalizing of its substances is applied in many pathologies as heart deceases, ar­te­riosclerosis, some types of de­men­tia, included the Alzheimer decease, and to ameliorate the qua­lity of life while ageing and du­ring chronic deceases.
Rich of proteins and fats the pistachio seed, among all dried fruits, assures the greatest caloric contribution: 683 kilocalories against 649 of the walnut, the 542 of almond, or the 571 of the peanut.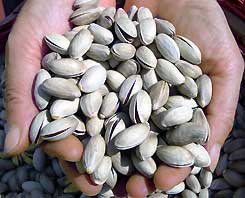 On average contains more than 20% of proteins, 50/60% of oil (68% of oleic acid, 17/19% of linseed oil, 12% of palm oil), and again sugars, particularly glucose, mineral salts (iron, calcium, phosphor, magne­sium and potassium) and vitamins, in parti­cular the forerunner of vitamin E.
The oil extracted from the fruit, is particularly applied in dermatology for its highly softening and emollient qualities.