Bronte, Italian capital of pistachio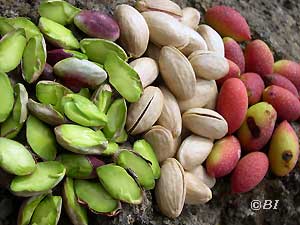 The Mediterranean has always been one of the principal exchange centre for the enhance­ment of the world alimentary products.
Traditionally has been the sea of the taste, of the flavours , of fragrance, of spice. A peculiar characteristic that has formed the culture, the economy and even the scenery, changing it deeply and in a way almost irreversible.
Spice in general but also basil, rosemary, pepper, olives, citrus wine and the vine and other thousands of products and cultivations that have invaded and changed this cultural and geographic space bringing to goods exchange and also to a cultural comparison maintaining a constant common value of taste and traditions.
The products, generally of mid-eastern origin, represent a particular aspect of this patrimony and have had a remarkable influence in the European and Mediterranean gastronomic culture.
Cuscus, pepper, wine, chestnuts and hundreds of other products derive from progressive and millenary exchange and the Mediterranean sea has always been its communication space.
Pistachio, an exceptionally antique fruit, known to Babylonians, Assyrians, Jordanians, Greeks, mentioned even in the book of Genesis and reported on the obelisk erected by the king of Assyrians around the VI century B.C., is one of the alimentary products included in the gastronomic patrimony of the Mediterranean people.
Of this precious fruit , brought to Sicily by the Arabs, Bronte represents the principal production area in Italy.
Iran is the biggest producer of pistachio in the world with a surface of 230.000 hectares followed by Turkey with 39.000 hectares, United States with 31.000 hectares and Syria with 20.000 hectares.
In Europe only Italy, Greece and Spain produce pistachio / the first two with about 9.000 hectares and Spain with 1.500, of which 2.000 in Andalusia.
In Sicily the pistachio grows prevalently in Bronte occupying there about 80% of the cultivable area, also in Adrano and Ragalna, in the province of Agrigento, particularly in Favara and Raffadali, and finally in S.Cataldo, province of Caltanissetta.
The average biennial Sicilian production is about 32.000 quintals of shelled product, 80% of which is exported abroad.