Nicola Lupo
Nicola Lupo, was born in Bronte in 1919.
After having studied in the local Ginnasio-liceo of the Capizzi college he graduated at Catania University in modern letters disputing a thesis about the "The culture in Acireale in the XIX century" with professor Antonino De Stefano, one of the major scholar studying Federico II of Svevia.
He taught in many schools in Italy wandering around through Sicily, Calabria, Puglia and Rome. He lives between Bari, Rome and Selva di Fasano, close to Brindisi.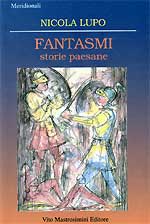 Wrote books on
Federico II ("Federico II of Svevia", 1996, published by Vito Mastrosimini, Castellana Grotte;
" Federico II of Svevia seen by A. De Stefano and G. Pepe") and about his teacher ("Antonino De Stefano man, heretic, historian").
In 1995 with the publisher Vito Mastrosimini of Castellana Grotte he published "Fantasmi - Storie paesane" (Ghosts-country histories), a pretty diary where Nicola Lupo remembers episodes of the years spent in Bronte in his youth, describing and evoking "past personalities or still living and facts and histories with the typical emotion of who finds and rediscovers its roots".
A testimony (nearly historical), concise and well written with a pleasant style, where many places and typical figures, protagonists of the brontese life of the last century ('a batìa, Nino Laròsa, Filippo Spitaleri nicknamed Scagghìtta, U zù Luiggi, u Tàramu, u casìno de' civili, etc), are pleasantly brought back to memory.