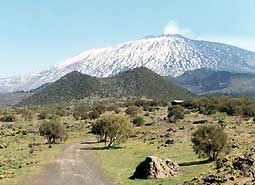 "Piano delle Ginestre" (Brooms' plain): singular plain, at 1200 meters of height, called so as impressive brooms plants spread nearly everywhere on the volcano up to the maximum height of 1900 meters, they occupy a wide area of the plain; in the zone you'll find also forest eco-systems of particular value with kinds very rare or completely nonexistent in the remaining part of this territory.

"Monte Ruvolo" (Ruvolo mountain): (1.410 meters), it is a little cone with two tops with mixed vegetation especially Brooms and big Oak trees.
To North of the small cone, near the "Mandre vecchie" (old mandras) is visible a little wooded area, singular biological presence between the lava of 1607.

"Monte Arso" (Burned mountain): it is a cone, at 1515 meters of height, shaped as a horse shoe, considered of historical epoch, with presence of biological emergencies.

"Monte Nunziata" (Nunziata mountain), to a height of about 1800 meters, where in the vicinity there is the Grotto of Nunziata Mountain .

"Monte De Fiore" (De Fiore mountain): it is a volcanic cone , at 1731 meters of height, formed in 1974 during an eruptive activity which gave origin to a singular "gashed dome".
Near the cone, between the lava of 1974, wooded eco-systems were formed with mixed varieties of Pine, Poplar and others.

"Grotta Della Neve" (Grotto of the snow), at about 1160 meters, close to "Piano dei Grilli" (Crickets' Flat).
In the zone can be observed some fauna species of value: the Kestrel, the Porcupine, the Hoopoe, the Partridge, the hares and the foxes.

In the area included between "Monte Revolt", "Monte Leper" and "Monte de Fiore" lives the Royal Eagle re-intro­du­ced in the territory by the Park authority some years back. It is the ornitho­logical presence more spectacular and significant under the ecological aspect. It nests, unique case in the south of Italy, on Larch Pine.