"U pagghiaru" ("the straw stack", this way, even if improperly, is called in Bronte this strange habitation) was the first refuge of the ancient inhabitants of this side of Etna.

Probably is coeval to the cave: appeared, in fact, before the other typical construction of this area "a casotta" ("this little house" also one single room, but rectangular, in dry masonry realized with lava stones and, some­time, with cantonal sto­nes roughly squared).

"U pagghiaru", is a very ancient type of Mediterranean habita­tion of prehistoric deri­vation: appeared first isolated and soon after, as the habitation unit of the pri­mitive prehisto­ric village.
Our ancestors, Sicani and Siculi, probably began this way their relational life, trying to copy what nature had offered to them with the natural caverns.
The selection of the locality was made in a way that would assure, above all, the stability, in a place naturally protected from the winds, from bad weather and from eventual inundations caused by heavy rains or overflowing torrents and rivers.
Also, generally, they carefully tried to realize the construction over emerging lava banks to avoid a direct contact with the nude earth.
Even if created to accommodate all the members of the family, it never lost his characteristic of a simple and unitary mono-local.
| | |
| --- | --- |
| | Today these rudimentary and primitive constructions, put in rare exemplary in the middle of woods or of the sciare of Etna, represent a singular specifi­city, a cultural and historic value; are a tangible testimony of our peasant civi­lization but, in reality, are, unfortuna­tely, in a condi­tion of total aban­don and of progres­sive inexorable degrade. |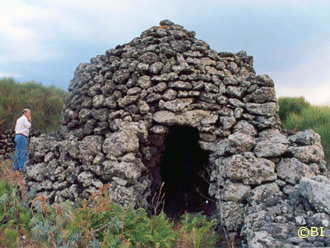 "U Pagghiaru" is a typical example of primitive, rural ar­chi­tecture, constructed dry, in circular plan with slabs of lava stone, with a covering shaped like a conic cusp, and disposed to concen­tric circles of a diameter decreasing towards the top.
The construction shown above is still in a good con­di­tion and it is nearly adjacent to the state road 284 that goes from Bronte to Randazzo.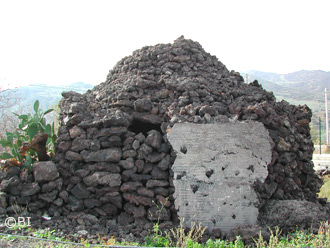 This typical ancient construction still present in rare exem­plary on the slopes of Etna, is situated in the pe­riphe­ry of Bronte, adjacent to the road which takes to the quar­ter of Sciarotta.
The unknown administrator (or who for him) has concei­ved in this way recovery, safeguard and the valorization of this precious man made relict.