DRIVING

FROM CATANIA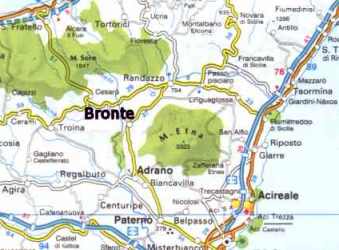 At Misterbianco, take the highroad for Paternò (121) and continue to the exit for Bronte, after Adrano, on the same road that becomes SS.284.

FROM THE HIGHWAY ME-CT

Coming from Messina, after the Taormina junction, exit at Fiumefreddo and follow the signs to Linguaglossa-Randazzo on the road S.S. 120 (that from Fiumefreddo takes to Bivio Cerda). After leaving Randazzo, follow the signs to Maletto and Bronte (S.S. 284).
An interesting alternative would be to take, from Linguaglossa, the road that takes to the Citelli refuge (the Mareneve road) and, after about 3 Km., turn to the right an continue till the exit to the SS 284 (between Randazzo and Bronte).
As well as avoiding to go through little inhabited centers and Randazzo, going this way you can go across the wooded area and the lava of the North- East side of the Etna Park.

Coming from the Catania' highway junction, continue on the tangential for the exit Misterbianco-Paternò and the towards Adrano-Bronte.

FROM CATANIA's AIRPORT
Take the tangential road towards Misterbiano-Paternò and continue on the highroad 121 to Paternò-Adrano till the exit to Bronte, on the road that becomes SS.284.



IN TRAIN

FROM THE CIRCUMETNEA RAILWAY STATION OF CATANIA OR OF GIARRE
Going through the same route in which, at the beginning of '900, went Edmondo De Amicis, the Circumetnea railway allows to arrive to Bronte in an unusual way, discovering the slopes of mount Etna, its volcanic cones and lava stretches, its vegetation that changes continuously, and seeing, one after another, the many inhabited centers placed on both sides of the Volcano.
In its circumnavigation of mount Etna, the "Littorina" (that is how this train is called) leaving from Catania goes through the territory of Misterbianco, the citrus orchards of Paternò, Santa Maria di Licodia, Biancavilla, Adrano and Bronte.
Continuing from Bronte towards Giarre, the train reaches its highest quote of height in the splendid green valley of Difesa district (with the Rocca Calanna (Calanna Rock), the woods and the best view of Etna), to start to come down towards Maletto, the vineyards of Randazzo and Solicchiata, Linguaglossa, Piedimonte Etneo and Giarre.



IN PULLMAN
With the bus services of the Circumetnea railway and other companies, all leaving from the terminal station "Porto" of Catania.