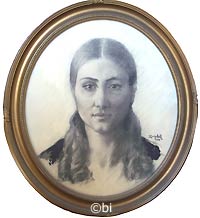 Rosetta Zingale
Rosetta Zingale, painter, was born in Bronte in 1916, dead in Milan in 1996.
She studied with the professor Carpi to The Brera Academy (Milan) where has lived and worked actively, taking part in the national artistic life from 1956.
Milanese of adoption, her Sicilian nature was always expressed in her works.
Her pictorial mode remained decidedly Mediterranean with the impressive lonely trees, the massive and impene­trable fortresses, the country towns clinging to Etna's lava slopes or hidden in gorges of a rocky spur, the flowers, the nature with her solar colors.
Her works are present in the major Italian collections and in many foreign cities (New York, Buenos Aires, Paris, London, Brussels, Helsinki).
Our Rosetta had several "personal exhibitions" in Italy and abroad besides the participations to the Prix Signature (Paris, 1969), Salon de l'Art libre (Paris, 1961) and to very many Italian and foreign art shows where it was appreciated and rewarded.
Because of her fecund work was called to be part, as merit academician, of the Academy of the "500".
On her art wrote, among the others, Leonardo Borgese, Dino Buzzati, Gino Traversi and Dino Villani.
In 1962 Carlo Carrà, was praising her as "deserving to be signaled for the tonal seriousness and the composing value".
She was eighty years old when she died in Milan in 1996.
Leaving a great deal of her works to the art gallery being set in premises of the Real Capizzi College.
"The chromatic mix gains for the Zingale a determinant importance, not only from the tonal values, also essential, but even for the weight, for the consistency of the superimposition from which derives that specific value that the artist can confer a determinant plastic function".
(Mario Monteverdi).
The artist left many of her works to Bronte.
They shall be exposed in the new Capizzi College art gallery