Nunzio Sciavarrello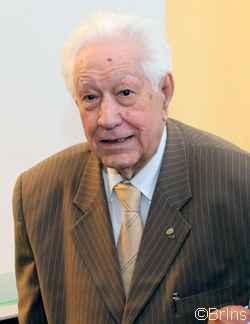 Nunzio Sciavarrello, painter, engraver, scene-designer, director of the academy of beautiful arts of Catania, was born in Bronte on May 23rd, 1918.
At present he lives and works in Catania.
Has had several "personal exhibitions" and participations to Biennial in Venice, Biennial in national San Paolo of Brazil and Lubiana, Quadriennal of art of Rome and very many Italian and foreign art shows organized by the national Chalcography of Rome and Italian culture institutes.
Resolute and determined in his love for art and culture, attends, at ten years of age, the municipal evening School of drawing of Bronte, works as apprentice to a local decorator artisan and in 1936, eighteen years old, moves to Rome.
In Rome he attends the free Via Margutta school, follows the studies near the Academy Of Beautiful Arts and is interested to the problems of the "Roman school " living his most fecund moments (with Scipione, Mafai, Pirandello).
In 1940, he realizes the first etchings at the school of Mino Maccari.
Returned to Bronte after the war, in which he takes part as a Grenadier, prints the, by now legendary, newspaper "The Ciclope", satirical fortnightly magazine that reflects and clarifies the essential and urgent problems of the country town and will, significantly, take a big part of the town life (1946-1950).
Moved to Catania, modifies the rhythm of the artistic activity and, with a group of artists who have for their meetings the Caffe' Italia - at the center of the via Etnea - promotes the birth of the State Art Institute (1950).
In 1963 he becomes full professor of etching to the Academy of beautiful arts of Palermo, of which, in 1966, will also assume the direction.
Since 1967 he has been a director of the homonymous Academy Of Catania.
In 1975 he is rewarded with gold medal of the Chairmanship Of The Republic, as well deserving of culture and art.
Nunzio Sciavarrello certainly represents one of the personalities that were able to give an indifferent contribution to the most significant cultural and contemporary art events in Sicily, and he is among the most representative figures of the Italian etching.