The Obelisk

The Celtic basalt cross dominating the courtyard at the centre of the Nelson Duchy is the only memen­to, left by his heirs, in Admiral Horatio Nelson honor.
The Serra del Mergo Obelisk, even if impro­perly known as the Nelson Obelisk, was erected instead to honor one of his descendant: the fourth Duke of Bronte, Alexander Nelson-Bridport.

It was erected in 1905, at some kilometre from the Castle, in the area of Serra del Mergo (1553 m. a. s. l.), close to Serra del Re (1754 m. a s l) and Foresta Vecchia zone, by the Duke Alexander Nelson-Hood in honour of his father deceased a year earlier.

At the base a large memorial tablet, now worn-out by time, holds a writing in Latin that shows the date of its placing in memory of Alexander Nelson-Hood, "illustrious descendant of the immortal hero of the Nile":


"MEMORIAE,
ALEXANDER NELSON HOOD DUCA BRONTIS,
VICECOMITIS BRIDPORT,
QUI IN HAEC RURA,
QUAE ESEMPIO HAEREDITATE ACCEPERAT,
PLECLARO PARENTE HEROE IMMORTALI NILI, HUMANITATIS ET PROGRESSUS CULTUM INVEXIT,
NATUS FUIT 23 DECEMBRIS 1814
OBIIT 4 JUNII 1904,
FILIUS AMORE IMPULSUS HOS SIGUM POSUIT,
ANNO MDCCCCV"


The Obelisk (1553 m. asl, already visible from a distance, is placed on a panoramic spot and dominates what was once the Nelson's estate (nearly 25.000 hectares of land).

The view sweeps from mount Soro (1847 m.) to the Trearie Lake and the Nebrodi forests and, turning south, to the imposing bulk of Mount Etna than dominates Bronte and the other towns in its slopes, and, finally, looking below, you can see the small Maniace village and the Nelson Castle to whose history the Obelisk belongs.

How to reach it
The Obelisk was put up on the Duchy highest and most northerly boun­dary, in zone Serra Mergo on the Nebrodi Mountains.
The monument has now lost its original meaning to become the destina­tion of an enchanting excursion and a good starting point for the several paths that go through the Nebrodi Park.
From the Nelson Castle, gone past the bridge over the Saracena torrent, at the crossroad proceed to right.
Go along the asphalt road that skirts the little English cemetery where are buried the Dukes and, from 1905, the English poet William Scharp, and go straight for about 4 kilometre, steeply up to the Taiti houses as far as the Corpo forestale di Segheria refuge.
Here it is better to park the car and proceed on foot, even if, in the hot months, it is possible to continue with a four wheel drive till the Serra del Mergo.
The landscape is enchanting. After a first stretch of dirt road you get back on asphalt and at the next crossroad turn left and soon after, near a gate, proceed to the right on a dirt road going up.
The journey takes no more than about 90 minutes alternating woody stretches to open areas.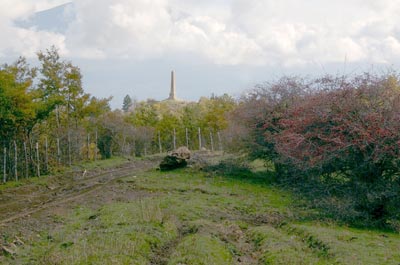 The Obelisk placed in a spot of extraor­dinary beauty and great charm, becau­se of general indif­ference is, in fact, completely neglected and subject to any kind of vandalism. (photo Faranda)