Bronte - New South Wales - Australia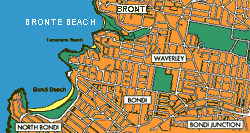 When I arrived in Sydney, in January 1973, my host, Joseph Greco, told me that one of the suburbs of Sydney was named Bronte.
In fact two places carry the name of Bronte, one is the actual suburb of Bronte, situated on the east side of the city of Sydney, capital of the New South Wales State.
Robert Lowe, layer and politician 1st Viscount of Shefbrooke, in 1842 had moved from England to Australia, where vehemently devoted himself to politics. He published also some articles that brought him good fortune.
He bought also a vast estate in Sydney, on the coast and, in honor of Horace Nelson, named it Bronte. The name is locally pronounced "Brontee". At the number 470 of Bronte road still exists the "Bronte House", the house that belonged to Robert Lowe.
The suburb of Bronte is part of the municipality of Waverley. In 1987 somebody tried to remove the name of Bronte from the name places of Sydney.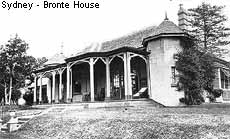 They wanted in fact to incorporate the area in that of Waverley. It was due to my personal good offices and the taking sides of the local people to avoid such event.
In October 1990, while I was having my holidays in Bronte of Sicily I met the then Lord Major dott. Francesco Spitaleri and suggested to him the possibility of a twinning between the two Bornte, unfortunately the lord Mayor had to resign from office in 1991 and nothing was done.The 16th of July 1992 however, came to Australia, in visit to the brontesi of Sydney and Melbourne, Catania's archibishop Mons Luigi Bonmarito, the vice president of Catania's province, Dr. Francesco Bruno, the president of Sicilia Mondo Adv. Domenico Azzia, the archpriest of Bronte Don Antonino Longhitano and the new lord mayor of Bronte Dr. Salvatore Anastasi together with other dignitaries.
The 20th of July of that year Biagio Meli from Bronte brought together the mayor of Bronte in Sicily and the Waverley Mayor, Mrs Barbara Armitage under whose jurisdiction falls the suburb of Bronte of New South Wales and they spoke of an eventual twinning.