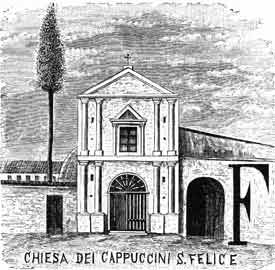 Church and Convent of the Cappuccini
The convent
The convent of the Capuchin fathers of Bronte was the 34th convent of the order. Before, however, the friars lived in the convent of the PP. Riformati Conventuali of S. Francesco (today it remains only the name "Conventazzo").
They remained there only for three years because of the cold and dampness, and because the convent was starting to crumble away, having been built on clayey ground.
The building of the new convent was begun in 1629 in the old suburban quarter of San Silvestro. To complete the building not quite finished, in September of 1635 the old convent was sold and new funds were raised to bring the work to completion.
In an unspecified epoch on the North-West side two big buttresses were built in masonry to garrison the building, visible from the Corso Umberto open to traffic entry.
As it results from Bronte's documents of 1714-17, the convent in 1714 was lodging sixteen friars, in 1748 twenty-six, of which fifteen from Bronte.
The building is shaped as a large "U". The entry from the Piazza Cappuccini leads to the small internal cloister with colonnade on two sides.
In the center there is a basin of water, not used any longer and to the corners four very high palms. From the arcade can be accessed the Capuchin church, the large room with a stage (little theatre) and the service premises of the convent. From a small corridor can be gained access to the wide and beautiful room of the refectory.
Above, inside small lunettes, there are frescos (1950) representing some saints' life. Above the entry lunette a Last Dinner. On the first floor long corridors disengage the rooms (the monks' cells) that look on the internal cloister. From this floor can be accessed the cantors zone of the church.

The church