He put his whole life at stake in the service of an idea: to improve his land
Mario Lupo
Culture, political and social commitment, secularism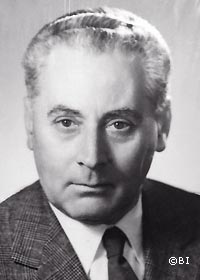 Mario Lupo, (Bronte 1904 -- 1986), was a professor of natural sciences in Bronte at the Capizzi Secondary school, journalist, interested in politics (was deputy major of Bronte in the years 1970) but, above all, was a great chemist.
With remarkable anticipation and insight, in postwar (1950 -1964) he was the first to talk about the oil fields of Bronte and of the island territory (the "Sicily petroliferità" as he called it) and to develop ideas and hypothesis, both flywheel of economic and social growth.
He was also the first to guess and speak of the oil showings of the San Nicola district (the "San Nicola fire") and of the Gioitto zone. ("Idrocarburi in libertà- Bronte oil center", Gian­notta publisher, Catania, 1962).
He wrote that "with the name "giuittu", the Arabs indicated the black bitumen. They could have observed signs of hydro­carbon and that could have given the name of Gioitto to this zone?".
Already in the 1929, as a solitary researcher, tried to define the oil peculiarity of Sicily ("petro­liferità"):
by sending his analysis and the first samples "of certain oil origin" taken by him, to the Sicilian territory to the Experimental Station for the Fuels Of Milan.
As a political man, he tried, in every way, to bring to Bronte some economic benefits, deriving from the utilization of the hydrocarbons found on his territory.
Despite his studies and the persistent action in searching for the petroleum, remained however, "a prophet in his country", unheeded, having had vulgar interlocutors, not only locally.
Today the research, the utilization of oil fields, in Bronte and other zones of the island, and the use of methane have became Sicilian realities.