He has dedicated his life to children suffering from leukemia
Gino Schilirò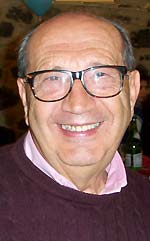 Gino Schilirò, university professor, illustrious and worldly known pediatrician, was born in Bronte in 1936.
He studied at the Real Capizzi College where he obtained his school-leaving certificate getting afterwards his honorary degree of surgeon at Catania's university.
He continued his formation abroad, working and studying for a long time at the Genetic department of the Columbia University at New York (USA).
Back in Sicily he started a prestigious career of pediatrician that brought him very soon to become Director of university department of pediatrics in Catania and director of the centre of regional reference of Hematology and pediatric oncology of Catania's university, that, under his guidance ha become a centre of very high scientific value.
In August 2003, for the first time in Sicily, in the centre direct by Gino Schilirò, was performed the first transplant of umbilical cordon on a young girl affected by a grave case of leukemia.
The same centre, in 2005 was included in the "special project" devised by AIRC - that sees the best of Italian pediatric oncology committed in the great challenge to defeat for ever the children's pediatric tumors – with a particularly demanding task: "to study in depth children's leukemia above all for what regards the gene "MLL" that is responsible of it, evaluating the results of treatments and directing the results obtained by all others research centers".
Gino Schilirò is also part of the study group Health World Organization for 'hemoglobinopaty'; National coordinator of the Project «controlled Therapeutic experimentations in children's tumors» of the national council of research; National president of the Italian association of hematology and pediatric oncology (AIEOP).
At the present is a consultant to the superior Health Council, a component of the Regional Oncology Commission, referee for accrediting courses of continues education in Medicine. Has been also asked to be part of prestigious National and International Scientific Societies: Italian Society of Pediatric deceases, Italian Society of Human Genetics, Italian Society of Hematology and Pediatric Oncology, Study Group for Erythrocytes, American Federation for Clinical Research-Interna­tional Association of Human Biologists, New York Academy of Sciences, European Society for Pediatric Hematology and Im­munology.
His demanding charity work and scientific research, the abnegation and the humanitarian spirit that he shows with the unwell children and their parents, have also had due and ample recognition.