Bronte's History
The Honest Workers Club
The years 1890-1894 were difficult years, marked by workers' exploitation, hard economic deve­lopment, poverty and poverty, often resulting in true and real civil social conflicts and struggles.
Years marked by violence, from special laws, police aggressions, dead and arrested men (like the one happened to on. De Felice during the of siege proclaimed by the Interiors Minister F. Crispi), with house arrests, searches and disarmament, suppressions of newspapers and censorship.
Years of social struggles especially among the workers, in the mines, and between the farm laborers, against the masters (Pirandello, The old and the young people).
In this period all over Sicily and especially around mount Etna started to grow several working social-democrat social-republican associations.
In Bronte, since 1887 had been constituted a workers association called "Circle of the Honest Workers of Bronte".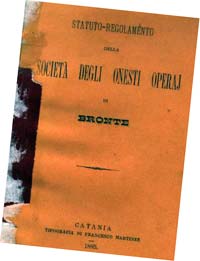 The associative aims, as from art. 2 of the Statute, were: the brotherly love, the individual and collective, moral and material improvement, with education intended as the civilizing complement for the working class; the mutual aid to alleviate afflictions and needs of the members.
Advanced and socially important the articles 20 and 28.
The first act:
"If a member after having paid for 10 consecutive years, because of old age or illness should become invalid to work, after medical certification, will receive 50 cents a day as a life subsidy". "The Council, to its discretion, may increase it".
The second says:
"For the perfection of arts and industries, the circle will maintain a working youngster, member' s son, in a city of the kingdom to become proficient in his art assigning a sum not greater than L.1,70 per day ". "The young son of a member will know any art well and should be between 17 and 21 years old".
In the general dispositions the article 95 says: "The flag of the circle is the national one, in the middle there are two hands pressed together in a handshake, emblem of the union and brotherhood, and around, as a crown, some tools of each art with the writing: coalition, mutual aid, education".
The number of the articles of the Statute-Regulation is 103.
After to careful reading of the ancient Statute-Regulation one can ask himself how come that, despite the extreme poverty of the least well-to-do classes, there is not a single mention of struggles or claims.
The answer could be that the wounds of the "Fatti del 1860" (The 1860 Facts) were not completely healed and that the admonition left by Bixio to the common people of Bronte could have been a goad for one turn in civil field.
Obviously this is only our personal opinion.