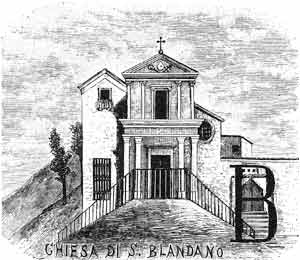 The San Blandano church
The San Blandano church is opposite the house in which the historian brontese Benedetto Radice was born and from the homonymous street has the principal entry.
Squashed by the adjacent buildings. it is set up on a high platform with steps in lava stone to double side ramp and has a linear and simple structure.
On the little prospect highlighted are: the basaltic portal, a window, and a high jutting frame which underlines the division of the double superimposed order. Completing the cornice, just outlined on the central plant, emerges a small triangular tympanum.

His history
His history begins in the half of 1695 when the fathers basilians of the Benedictine Abbey of Maniace, because of the malaria and the earthquake of 1693 that had pulled down and destroyed many parts of the monastery, were forced to abandon it and to move to Bronte. Here they receive in gift the chapel of San Blandano, which was already existing since 1574, with the faculty to build around it a little monastery. Which they did.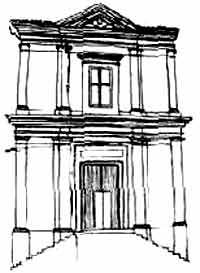 In the new premises the monks continued to call themselves of "Santa Maria of Maniace" and have their abbots elected regularly (the last one was friar Giacomo Cimbali in 1900-1904).
In Bronte they transported their objects of cult, their relics and, writes the Radice, also the Byzantine icon of Santa Maria Of Maniace (even if a writing in Latin, present on the painting, make you think that the one preserved in San Blandano could be a copy and not the original).
The lodgings were completed in 1708 around the church and in 1784, as informs us an inscription inside, king Ferdinand IV, in consequence of the concession to the admiral Horatio Nelson of the ancient Maniace Abbey and all its properties, decreed the definitive transfer of the Abbey ("Ecclesia Sanctae Mariae de Maniachio regio diplomate Ferdinandi IV°, uc traslata").
The church was rebuilt from the foundations in 1821 (on the door architrave is written "Santa Maria a fundamentis quasi aedificata, anno domini 1824").
The Basilian monastery was suppressed following the laws of 1886 which sanctioned the alienation of the ecclesiastical possessions (with it had been also cancelled the female seclusion monastery of Santa Scolastica adjacent to the San Silvestro church). The monastery, at the end of the XVIII century, was demolished and changed, for a short period, to a municipal house. It doesn't exist any longer.

The inside